The Best Traverse City Fall Drinks at the Wineries and Cideries
TRAVERSE CITY FALL DRINKS
It's that time of year! We lucked out with a little week of summer to welcome mid-September but we all know what's coming. Yes, we are going to miss jumping in the bay, wildflowers, boat rides, beach days and of course snow-free days, but you're crazy if you aren't excited for everything pumpkin, apples, and FALL! Cider is getting more and more popular here in the North and we are definitely not complaining! Today we are talking about some of our favorite fall drinks in the area, no this is not all of them if we wrote about them all this post would be 500 pages long, but these are some of our favorites mixed with some of our customer's favorites, and boy are they delicious!
BRYS ESTATE'S SPIKED CIDER
Our personal favorite come fall time is the Spiked Cider at Brys Estate Vineyard & Winery. It's the perfect drink to enjoy with your favorite people looking out over the vines and enjoying the views of East Bay. It's the perfect mix of Brys riesling, local apple cider, and some brown sugar and spices! We just found out they are starting to serve this delicious drink, October 4th and we can't wait to bring you all up to try it. Also, if you live too far away and can't make the trip up to Brys Estate yourself, Brys is kind enough to share their recipe online! Click the link to check it out, Brys Estate Spiked Cider.
LEFT FOOT CHARLEY'S CINNAMON GIRL
This cider has quickly become one of the favorite drinks in Traverse City and it's popular year-round. Every time we visit Left Foot Charley with our groups some local or tourist is in there with their growler getting their weekly fix of Cinnamon Girl! Although this cider is offered year-round, we think it's the perfect drink for the fall months! This cider is made with apples from Old Mission Peninsula and then whole cinnamon sticks are added and steeped in the cider for 4-6 weeks. Come check out their tasting room at the Grand Traverse Commons with us!
CHATEAU CHANTAL'S NAUGHTY CHERRY APPLE CIDER
Another local favorite is the Naughty Cherry Apple Cider from Chateau Chantal. The apples give it that fall flavor but the hint of cherry is there if you're not completely ready to say goodbye to summer! This is another great stop on our tours because you can get a glass, then sit on their front patio or back deck and take in the gorgeous views of both East and West Bay.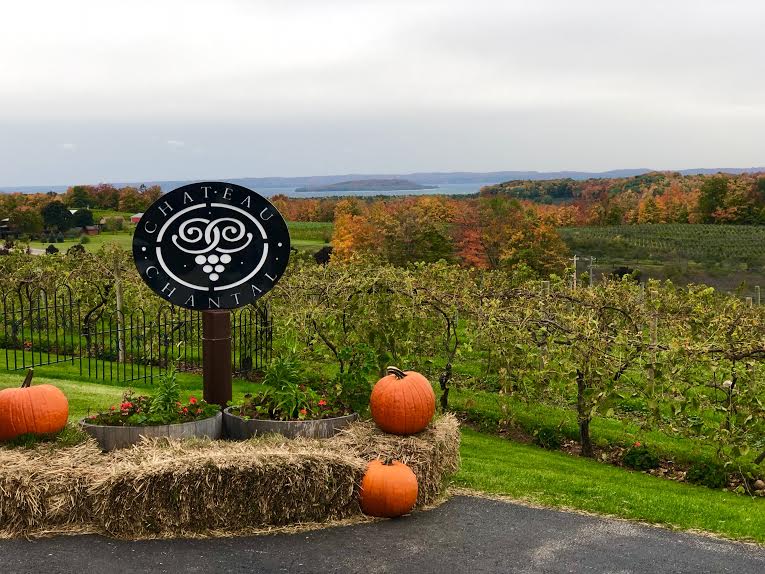 ROVE ESTATE'S MULLED HARVEST CIDER
We are adding one to the list from the awesome, Rove Estate Vineyard & Winery. Their mulled Harvest Cider is available in the tasting room on Sunday only, but is the perfect way to warm up on a cold rainy day! But let's be honest, once fall hits it's the perfect drink on any kind of day. Rove understands that not all of you can make it up to their tasting room so if that's the case, they have included the yummy recipe! Just take their 2015 Riesling, local apple cider, cinnamon sticks, and cloves and throw it all in the crockpot.  If you need more specifics just send them a message on Facebook or e-mail and they will send you the full recipe!
NORTHERN LATITUDES DISTILLERY
Sooooo many amazing cocktails at Northern Latitudes Distillery to choose just one! They offer many different spirits and also offer a weekly drink special (typically to go with that season) and they are always delicious! We were there recently and there were offering their Harvest Mule which is perfect for this time of year! Check out their social media to see what is coming next for specials!
LEELANAU CELLARS' WITCHES BREW
There's no doubt about it, Witches Brew is the perfect drink to enjoy this time of year especially the closer we get to spooky Halloween time! This wine is a secret bland and is enhanced with cinnamon, cloves, nutmeg, and other natural spices. The best part? You can enjoy it cold or warmed it! Our favorite thing to do is warm up a bottle (or 2). Warming it up intensifies the flavors and it's perfect to enjoy in front of the fire on our colder days! You can even pick up one of these adorable mugs next time you're in the Leelanau Cellars tasting room with us!
BOWERS HARBOR'S DONUT HOLE CIDER *COMING SOON*
Everyone loves the Spirit Cider line at Bower's Harbor but you're about to love it even more! We just heard that in just a few weeks Bowers Harbor Vineyard and Winery will release their caramel/cinnamon cider and we can't wait to try it! When you are up trying it, you can also try their many other ciders and even join their Spirit Cider Society Club!
SUTTONS BAY CIDERS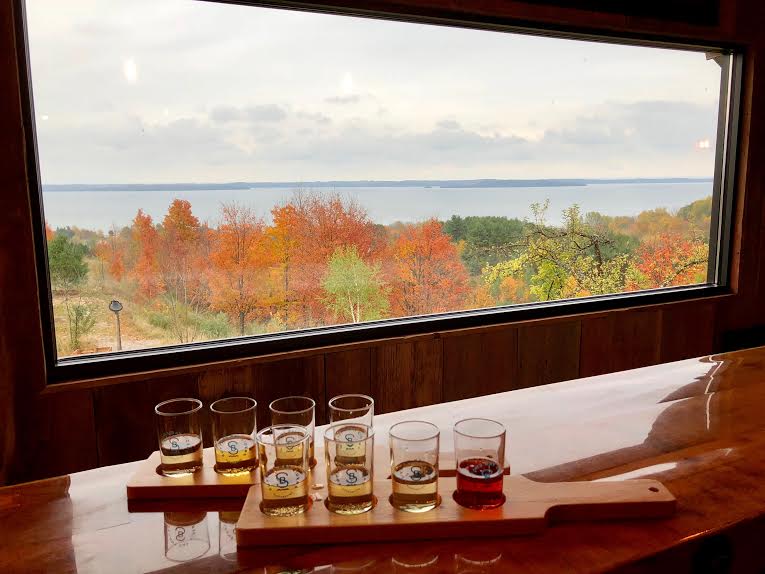 After seeing this picture we don't have to convince you that Suttons Bay Ciders offers one of the best views in the area. Located just 20 minutes from Traverse City, Suttons Bay Ciders offers anywhere from 8-10 ciders year-round ranging from dry to sweet. Our personal favorites are the Cherry Fest, Mosaic and Power Island. They even mix their ciders and have made some amazing creations! If you love cider, we believe Suttons Bay Cider is a MUST see on our tours when visiting the Leelanau Peninsula.
TANDEM CIDERS
Tandem Ciders has been making cider long before it was trendy or popular and dang, they've mastered it. If you head up to Tandem Ciders you'll find 9 ciders to choose from. Another great option to try during this time of year is their apple brandy aged in oak barrels! Our customers always seem to love the Smackintosh and the Farmhouse. We love them as well but are big fans of the Pretty Penny and the Crabster. But let's be honest, they are all to die more.
TWO K FARMS CIDERY AND WINERY
Two K Farms Cidery and Winery is one of our newest establishments in Northern Michigan and in just a year they have become a favorite up here! Some of their ciders have already brought home some medals. What we love about Two K Farms and Cidery and Winery is that they have over thirty varieties of unique, traditional cider apple varieties that are all grown on their farm on the Leelanau Peninsula! We can't wait to see all the great things they bring our way in the years to come.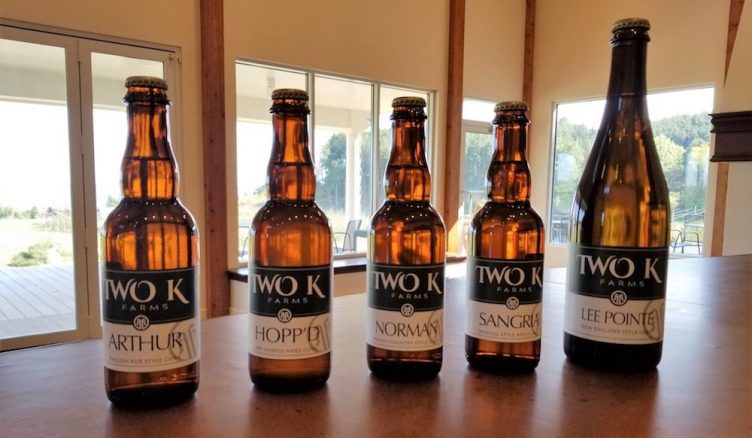 WHAT'S THE BEST WAY TO EXPERIENCE THESE FALL DRINKS?
Funny you should ask! Traverse City fall drinks are what get us through our sad goodbyes to summer and we want to make sure you have the best time experiencing them! We have 19 vehicles to choose from ranging in size and style to go with your perfect fall day adventure! Want to experience these drinks together for a romantic date? We've got you've covered. Bringing 10 of your buddies up to convince them all that cider is the best thing ever? We've got you've covered. Bringing your wild and loving family of 32 up to see the gorgeous views and taste the awesome wine? You guessed it! We've got you covered! No matter your vibe, we have the vehicle to match. Click the link, to check out our totally awesome vehicles.
Give us a call at (231) 499-2656 or book your next wine or beer tour HERE. Stay up to date with our latest specials and events on this blog and also check us out on Facebook, Twitter and Instagram.