Bachelorette Party FAQs
ATTENTION BACHELORETTES!
Look no further for the perfect "fling before the ring" experience than with Traverse City Wine and Beer Tours!
Tis' the season for "rose all day", "pop the champagne, I'm changing my last name" and all those extra fun things. Most importantly, we are coming up on our Bachelorette party season, and welcome you to take part in what surely will be an exciting couple months!

Trying to plan a Bachelorette tour? We have the tour for you!
We have 18 unique vehicles to choose from. Our most popular with Bachelorette parties are:
DODGE DURANGO STRETCH LIMO

(up to 12 passengers)

TRANSIT LIMO BUS

(up to 10 passengers)

BABY FUNK

(up to 10 passengers)

FUNKY BUS #1

(up to 10 passengers)

FUNK BUS #3

(up to 20 passengers)

STARCRAFT LIMO BUS

(16-26 passengers)

HOMETOWN TROLLEY

(up to 32 passengers)
Q: Which vehicle would be a good choice for my group?
Here are our recommendations: 
For the traditional + elegant Bride: HOMETOWN TROLLEY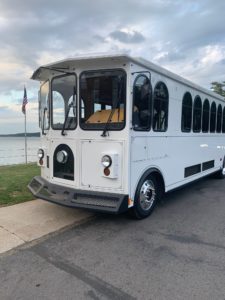 For the eclectic + colorful Bride: BABY FUNK -or- FUNKY BUS #1 -or- FUNKY BUS #3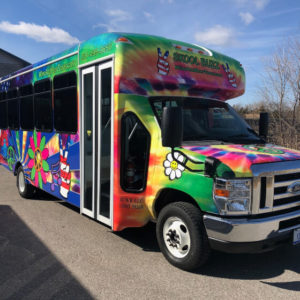 For the modern + snazzy Bride: TRANSIT LIMO BUS -or- STARCRAFT LIMO BUS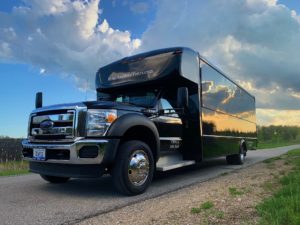 For the stylish + party-centric Bride: DODGE DURANGO STRETCH LIMO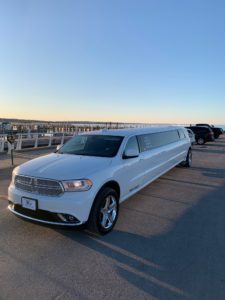 Q: Do we get to choose the venues we go to?
Once your tour is booked, we'll ask you about the venues you'd like to visit. We can take you to wineries, breweries or distilleries. The choice is up to you. Our only limitation lies with group size. In most cases, we'll to make the schedule for you, based on which venues can accommodate a group of a larger size (larger than 14). Most venues are now accepting groups of 6-10 people, which will make your life as the party planner (and our lives as your Chauffeur) much easier.
Q: How long is a tour?
Our tours all start at 4-hour time frames, typically running from 10:45 a.m. to 2:45 p.m., or 3:30 p.m. – 7:30 p.m. In those 4 hours, we'll take you to 3 awesome venues!
The price of your tour includes your transportation, driver, and driver tip for the day. It does not include any purchases you make at the venues we go to. You can budget additionally to spend anywhere from $12-$25 at each venue on beverages. Should you choose, you can make your tour longer by adding additional hours. Each additional hour means we'd visit another venue (ex: a 5-hour tour would visit 4 venues).
Depending on your pickup location, we may suggest you meet us somewhere in Traverse City for a local pickup (if you are way out of the city limits), or add additional hours to your tour, if available.
Q: What should we wear?
Our Bachelorette parties like to wear matching outfits, or plan fun color schemes, but it's entirely up to you what you'd like to wear. We've had Brides ride our Funky Busses and plan a 70s theme for their outfits. We've also seen Brides wear cute sashes and tiaras. They sky's the limit with bridal fashion!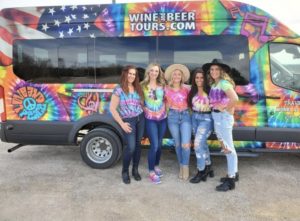 Here are some of our clothing recommendations:
Dress comfortably, with comfortable shoes! Oftentimes, heels aren't the best idea at wineries where you will be walking through loose gravel, grass, or trying to climb flights of stairs. Though super cute, consider a flatter shoe or wedge to make getting around easier.
Lots of Brides like their party to match, with fun t-shirts, tank tops, crop tops and custom accessories. We can help with that! Browse our fully customizable swag options HERE, and view our newest custom apparel ideas for Bachelorette's here: Bachelorette Swag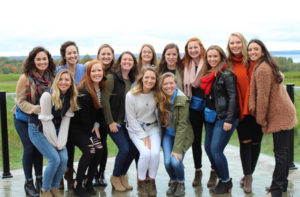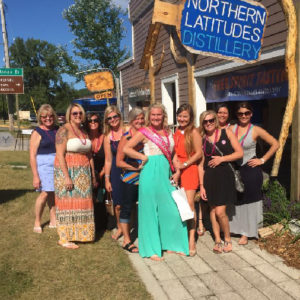 Q: What should we bring?
Most of our vehicles (except our Cadillacs) are alcohol friendly! That means you can bring a cooler with drinks and snacks along. Many of our Bachelorette parties like to pop a bottle of bubbly on the way to their first venue, or sip on a hard seltzer between stops. Whatever your poison, feel free to bring it along.
Bring your masks and photo IDs – these are two non-negotiable items!
Q: Do the wineries offer any private tasting experiences or tours?
Currently, many wineries are strictly offering wines-by-the glass, or flights of wines. Tours and private tasting experiences may be hard to find.
We hope our answers to your questions are helpful, and will bring you a step closer to booking a Bachelorette Party tour with TCWB! We'd love to party with you and your "bride tribe" and make your fling before the ring a unforgettable one!