Discover the Best of Big Little Wines in Suttons Bay, MI
Big Little Wines:
Small Batch Wines From Northern Michigan
Located in Suttons Bay, MI is the adorable and unique winery, Big Little Wines. Something we learned and loved on our last tour here was Big Little actually stands for Big Brother, Little Brother! Also, Big Passion. Little Ego. Their goal here is to, "make full-bodied handcrafted big wines, from this little peninsula, that are both expressions of themselves and their parents' 10-acre vineyard in Lake Leelanau, MI. So, to clear this up their vineyard is in Lake Leelanau but their tasting room is right next to L Mawby in Suttons Bay! We call this area a two for one because you can enjoy wine at Big Little Wines and then walk right next door to enjoy some Bubbly at L Mawby!
The Story of Big Little Wines
In 2003, the brothers, Pete and Michael witnessed and helped their parents plant two acres of Pinot Gris and Pinot Noir vines on their old cherry farm in the Leelanau Peninsula.  The brothers didn't live here at this time but loved visiting and helping with the vines as much as they could.
They assisted and visited for seven years before leaving their careers and landing in Northern Michigan to live and work here.  They learned winemaking through hands-on, heads-down hard work, and help from this area's respected winemakers. In 2013 they purchased 30 acres on Stoney Point, just East of Suttons Bay and in 2016 planted 5 acres of vinifera on this site: Chardonnay, Pinot Blanc, and Gamay Noir.  These young vines are starting to produce as early as this year. Now fifteen years later after the first vines were planted, the brothers continue to learn and add more wines to their unique bunch. To learn more about their story you can click, HERE.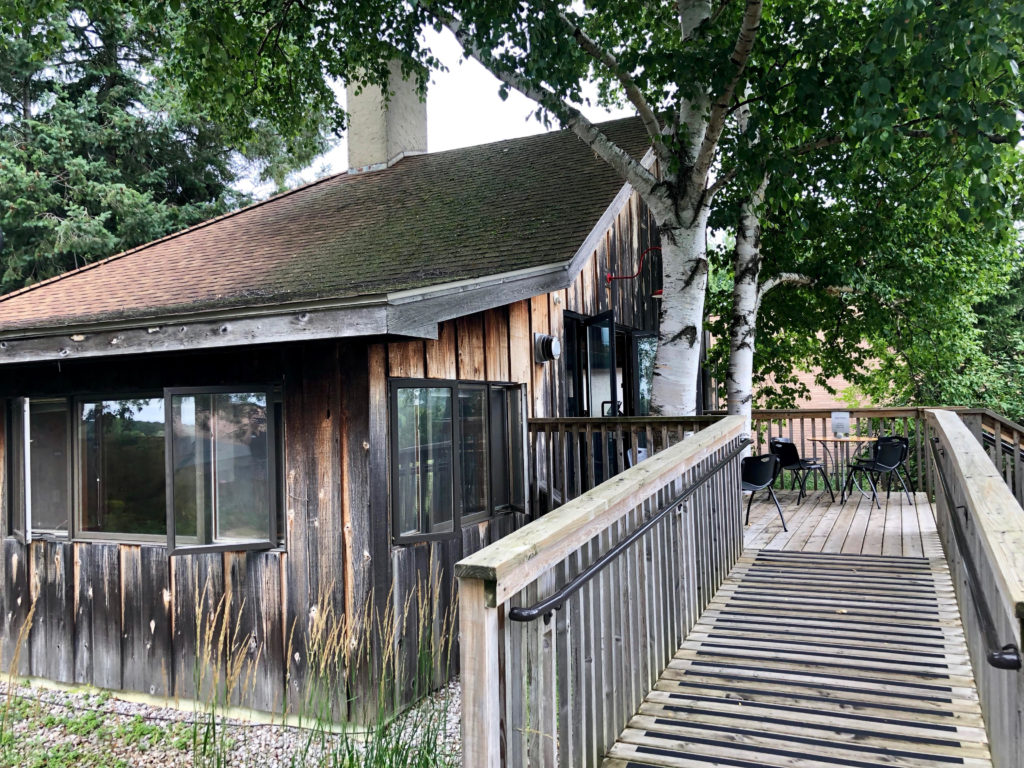 The Tasting Room at Big Little Wines
As we mentioned earlier, the tasting room for Big Little Wines is located just before the town of Suttons Bay and is located directly next to L Mawby. Something to note is they are only open Thursday-Sunday at this time so make sure you plan for a weekend when visiting!
We love the birch wood in the small and quaint tasting room. We recently spoke with their tasting room manager and they said they are now allowing larger groups with a reservation. There is a small private tasting room and outdoor patio as well!
The Wine at Big Little Wines
With each year producing better and better fruit, Big Little Wines have expanded their wine offerings and now have 10 uniques wines for you to try! Favorites that we've heard about the most and tried include their Treehouse White Pinot Noir, Dune Climb Sauvignon Blanc, and their C3 Pinot sparkling Brut. Also,  just last week we took a group to Big Litte Wines and one of the girls said she wasn't a wine drinker but then tried their Open Road Rose and fell in love with it! She now claims she will drink this wine and this wine only, forever!
The brothers say the goal they have for their wines can be summarized in one word: Balance. "They aim for a balanced vine canopy in the vineyard during the growing season. They strive to maximize quality and yield based on the style of wine they are making, so balancing crop load per vine is critical. Michael and Pete want a balance of sugar, acid and flavor when they decide to pick the grapes and they want to balance flavors, alcohol, acidity, sweetness, and mouthfeel when they make their blends. And they want to make sure their wines and styles complement one another to make a strong portfolio of products. They believe strongly that blending grapes together can often result in a more complex and higher quality wine than individual varietal wines. To that end they have several wines that are blends. They believe strongly in sustainable vineyard practices that include limiting pesticides, planting beneficial crops in row middles, irrigating responsibly, and general respect for the land."
How Do I Get to Big Little Wines?
Here is the best part! Don't worry about driving the 25 minutes to the winery, call us! We will pick you up from your Traverse City area hotel or rental 7 days a week. Then we will drive you up to Big Little Wines to enjoy their wonderful wine and patio.