What are the Five Best Distilleries in the Traverse City area?
Are there any Traverse City Distilleries?
Oh yes! Many people don't believe us when we tell them that they can visit five different distilleries in under 30 minutes from downtown Traverse City, but it's true! Distilleries are starting to pop up more and more here in Northern Michigan and we are so proud to have these five so close to home. We wanted to share a bit about each distillery so you can see what they all have to offer before you plan your next tour with us. It's impossible to choose a favorite, so read on and you'll see why you'll just have to visit them all!
What tours visit the distilleries?
There are many options when it comes to visiting these distilleries on a tour. You can book a join in tour where you visit just wineries, breweries, cider houses, or distilleries. Or, you could visit a bit of everything on one, depending which one you choose. For example, our Leelanau Peninsula Join In tour visits three wineries and Northern Latitudes Distillery. You can also book a private tour and we can either help put together a schedule for your group, or simply take you anywhere you'd like to go on the day of.
Grand Traverse Distillery
Grand Traverse Distillery is the oldest distillery here in the area. They started in the early 2000's and put their first product on the market in 2007. Since then, they have produced many delicious spirits and have even won a double gold for their True North Rye Vodka. Their concept has only been the same, create an exceptionally locally-sourced spirit and waste not. We are honored to have not one but two locations here in Traverse City. Grand Traverse Distillery has a tasting room right downtown on Front Street, here you can enjoy all their spirits and also try some Shady Lane Cellars or Brengman Brothers wine and Bee Wells mead! Our favorites were the Cherry Vodka and Barrel Finished Gin, we'd love to hear what yours are!
Grand Traverse Distillery also has a location on Three Mile Road in Traverse City, here, they give tours of their facility and also have a tasting bar. We highly recommend taking a tour, it lasts about 45 minutes and is very informative plus it ends with a tasting! We had the opportunity to speak with the head distiller Landis, who happens to be the owner Kent's, son. It was so awesome to learn about the locally-sourced spirits and how much hard work goes into producing them.
Mammoth Distillery
Traverse City's newest distillery is Mammoth Distillery Cocktail Lounge. They've actually been around for a while on Central Lake, but they just opened their Traverse City location less than a year ago. We love having them so close now so we can stop by with our tour groups. There are many exciting things going on at this new location so keep an eye out for some new bottles and a spring food menu releasing soon. Mammoth also just announced that they are constructing a new patio and it will be open for summer! We enjoyed their tasting and loved their gin and rum so we tried their Pear King and Indian Summer cocktails. They were awesome, but to be honest we haven't tried a spirit or cocktail here that we didn't love.
We recommend doing a tasting and then enjoying a cocktail in one of their comfy mammoth chairs in their cocktail lounge. They also have an awesome barrel club(in the picture below), so be sure to ask more about that when you're in. Although this is the location you'd visit on a tour with us, we also recommend checking out their Central Lake location for a tour someday!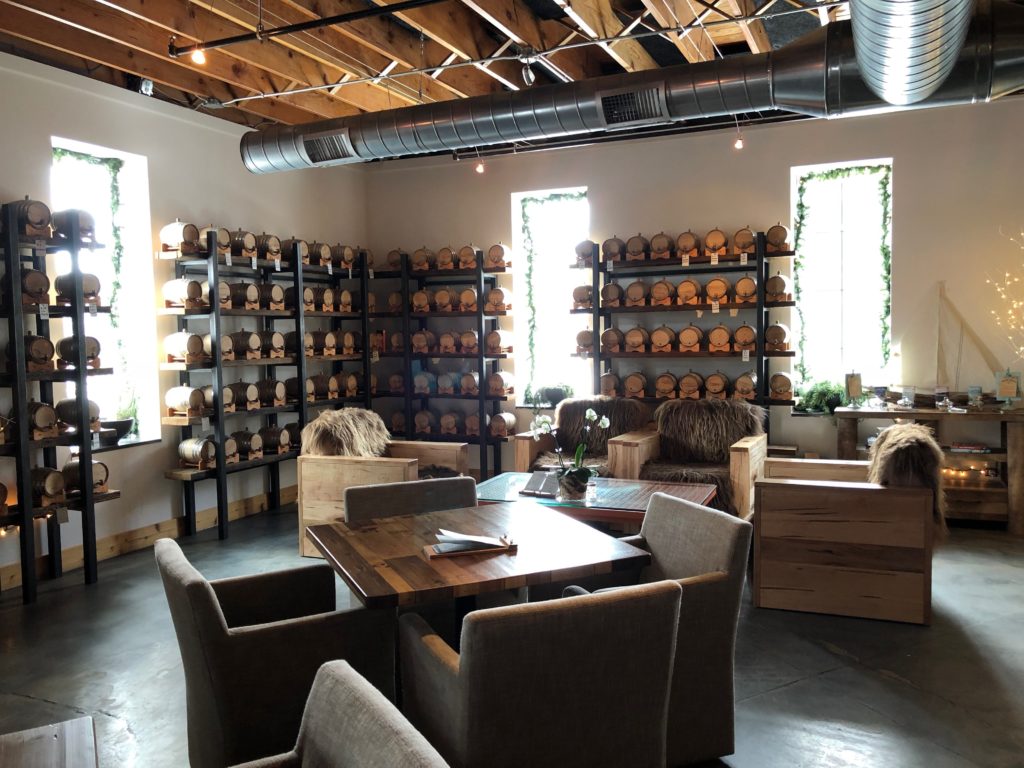 Traverse City Whiskey Co.
In an adorable brick building located just a few minutes from Front Street is Traverse City Whiskey Co. We'd have to say this is the home to the best Old Fashioned in Traverse City and that's because they've been perfecting it for three generations now! They say they are on a mission to produce the smoothest, greatest whiskey possible and they want you to not only enjoy it in their Traverse City tasting room but on your next outdoor adventure with your loved ones as well. Yes, they are famous for their whiskey cocktails, but they are also famous for their premium cocktail cherries so you can't leave without trying one!
Traverse City Whiskey Co. has five great bottles of whiskey for distribution and recently released their Michigan Apple Whiskey and it was a huge hit on one of our recent tours! Now, for our non-whiskey drinkers visiting for their husbands after they brave the wineries for you, the most common is the Whiskey-Rita, give it a try, you won't even know you're drinking whiskey! You can also take a tour at this location to learn more about the whiskey and it's distilling process, to learn more about a tour click HERE. For great whiskey cocktails and service absolutely add TC Whiskey to your next tour with us.
Ethanology Distillation
Just a short 30-minute drive from downtown Traverse City is another new distillery called Ethanology. They are actually just about to celebrate their one year anniversary in June and we are so happy they are here! This is a distillery you would visit if you booked our Torch Lake Tour, this tour is awesome and features the nine drinking establishments in the Torch Lake area. We love Ethanology's concept: "Every drop of Ethanology is authentically crafted. Every grain, botanical, and ounce of honey is locally sourced. Every batch, manically synthesized. One at a time, every time." It doesn't get much better than that!  They currently have three spirits to taste and buy but have a fourth coming soon so stay tuned for the release this summer.
When tasting their cocktails, our favorite was their Siligo Vodka but their gin and rum we are close second and third. Check out their unique and stylish tasting room and still house for tours, cocktails, live music and whatever you do, don't miss their Bloody Mary Bar on Sundays, it's to die for!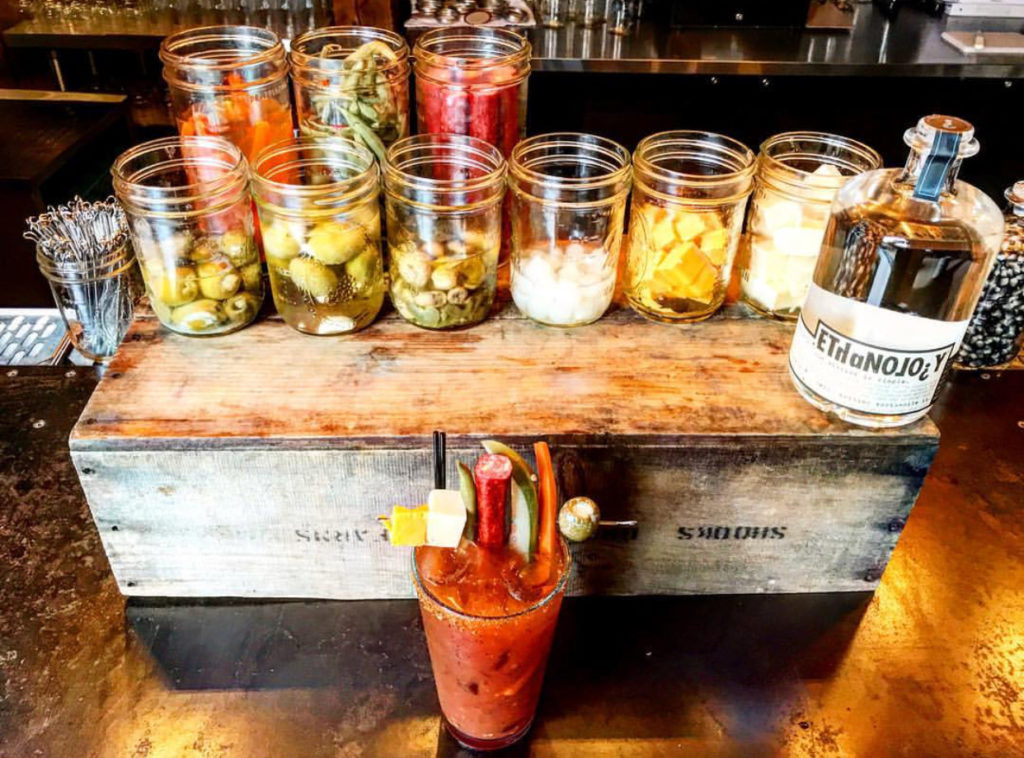 Northern Latitude Distillery
If you book our Leelanau Join In Tour you will have the pleasure of visiting Northern Latitudes Distillery in Lake Leelanau just thirty minutes from Traverse City. This distillery is just five years old and has quickly become a favorite here in Northern Michigan. You can smell the spirits distilling right when you walk in and with the warm and welcoming staff, you'll instantly feel at home. You'll start with a very informative tasting including 4 free tastings at the bar.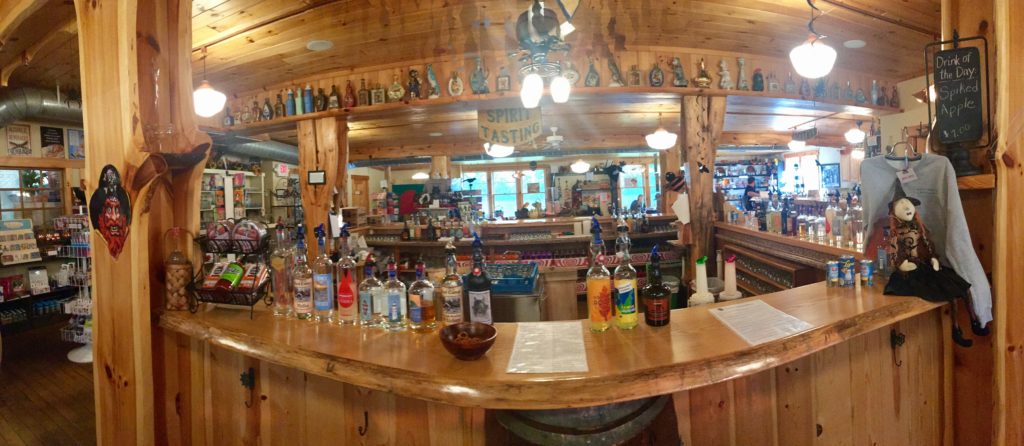 Favorites here are Jack Pine Gin , Whaleback Spiced Rum and the ultimate favorite is the Horseradish Vodka-it will take your bloody mary game to a whole new level! Although these are the best sellers, there are many more to choose from.  After your tasting, you'll head to the next bar and here you can choose from over 25 cocktails to enjoy. Don't forget to check out their awesome and eclectic retail section as well. Make sure you purchase a bottle of your favorite spirit, currently Northern Latitudes Distillery does not distribute.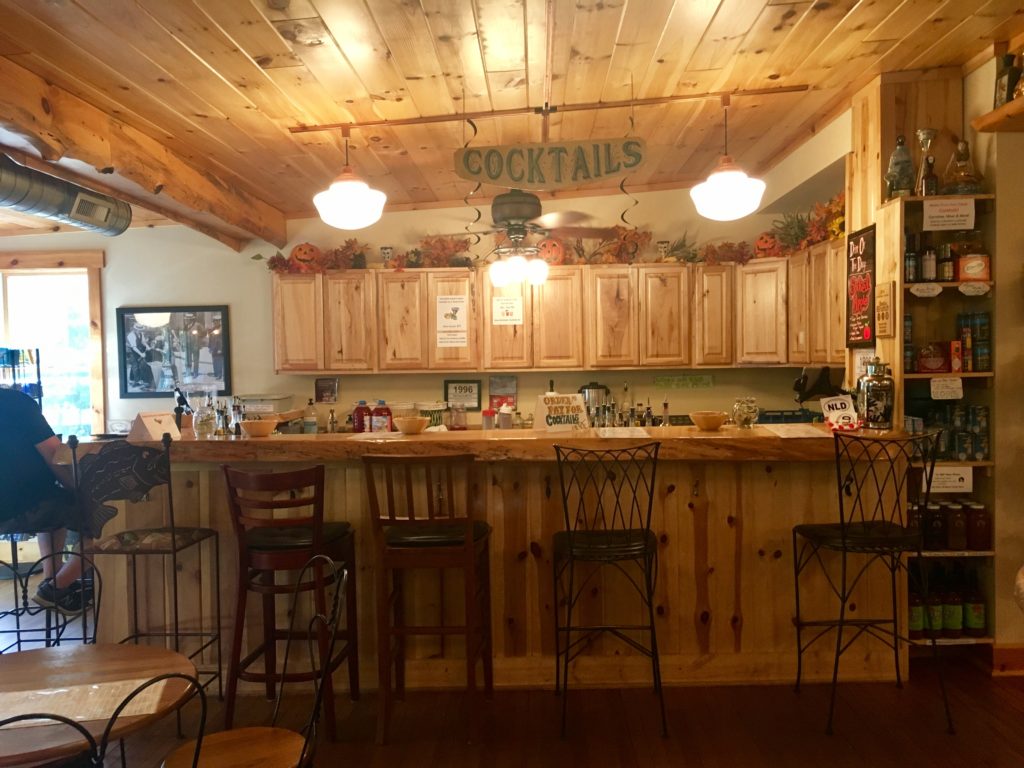 Not only can you taste awesome spirits on one of our tours visiting Northern Latitudes Distillery but you have the opportunity to try some of the best pizza in Northern Michigan. You can order a pizza from Red Top Pasteria before your tasting, they'll make it while your tasting and then they'll bring it over for you to enjoy with your cocktail! Our favorite is the Mackinac Bridge but we also recommend trying their cheesy squares and homemade pasty's.

Book Your Tour Now!
Eager to book a tour and visit some of these awesome distilleries?! We offer join-in tours visiting distilleries 7 days a week and just last week, we had a tour that visited a couple of wineries, two breweries, and a distillery all in one day! The possibilities are endless with our tours and we can't wait to see you on one soon! Give us a call or book your next distillery, wine or beer tour HERE. Stay up to date with our latest specials and events on this blog and also check us out on Facebook, Twitter and Instagram.